I still have a few green tea samples left from the 2021 harvest Teasenz sent me back in May. I vividly remember the last time I had some Tai Ping Hou Kui. It was one of the best green teas I tasted that year so I just went with it for today's tea session.
Tai Ping Hou Kui
Tai Ping Hou Kui is a famous green tea from China's Anhui Province. It's a luxurious tea that has a distinct shape so it's easy to tell it apart from other types of tea. In the West, it's sometimes known as 'Monkey King' tea.

Don't know where to buy tea online? I made a list of over 300 online tea shops and I keep updating it regularly. You can check it over here
The Tai Ping Hou Kui I'm drinking today is from 2021 and is best enjoyed when it's fresh. I have never tasted this type of tea when it's a few years old, but I guess it'll lose some of its freshness and grassiness.
Tea Tasting
4g of leaves for a 140ml porcelain gaiwan
80°C water
Really massive leaves with a typical hou kui shape. They don't even fit in my gaiwan! I usually use a regular gaiwan for green tea, but I'm using a taller one for this tea because the leaves won't fit otherwise. The aroma is grassy with a sugary sweet undertone. It feels fresh and warming at the same time. Once the leaves get wet, I'm also picking up a stony minerality.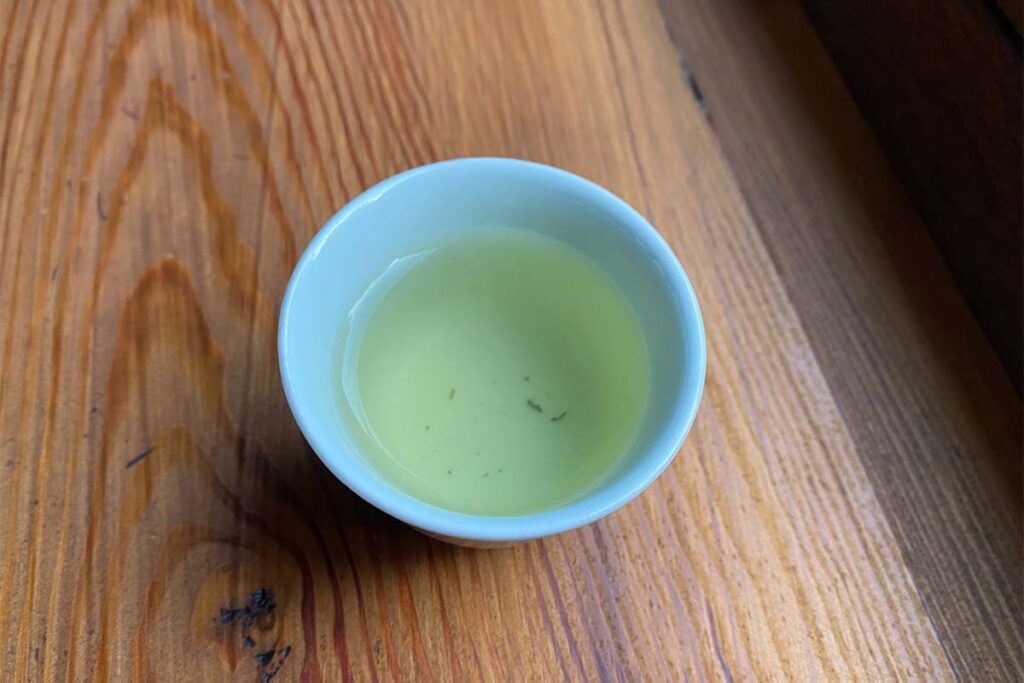 Infusion 1 (15 sec): very light green colour. Not too intense, but some of the sweetness I smelled is coming through. The flavours are the opposite of the aroma. The infusion starts with dark sugar and slowly gets grassier towards the finish. The finish and aftertaste are refreshing and it stays around for a while after swallowing. During the infusion, I feel the sides of my tongue are producing more saliva than usual.
Infusion 2 (20 sec): the colour hasn't changed much. It's less sweet at the start and I'm getting some hints of minerality. It's quite mellow and it feels relaxing. The finish is no longer refreshing and it has become sweeter, just like the aftertaste.
Infusion 3 (25 sec): such a mellow tea! It's really sweet at the start and becomes grassy in the finish. The aftertaste is a bit sweet as well as it's a combination of grassy and sweet. It's a lot of fun to taste and feel how this tea changes and how it offers the best of both worlds.
Infusion 4 (30 sec): the sweetness has diminished a bit and it starts out on a grassy note. Towards the finish, the sweetness from earlier starts creeping up and lingers for a while in the aftertaste.
Infusion 5 (40 sec): this will be the final infusion because the flavours are fading a bit. The sweetness is back at the start and slowly diminishes. No real aftertaste and I also feel the grassiness has disappeared.
Conclusion
This Tai Ping Hou Kui was such a mellow and enjoyable tea. Drinking it was really relaxing and delicious. It had been a while since I had this type of tea and now I fully remember why liked it so much last time!
I mainly got a sugary sweetness at the start of most infusions and this slowly changed into a refreshing grassiness towards the finish. The aftertaste had the best of both worlds. Really nice tea and I'm happy I still have some of the sample left to drink again very soon!
If you're interested in this Tai Ping Hou Kui, click here.