Today was one of the warmest February days ever in Belgium so I really wanted to drink tea that fits these temperatures. I have been a member of the Essence of Tea tea club for over a year now and I've received some pretty nice teas. The 2020 Spring Hua Ji Dan Cong was featured last month and I thought it would be a good one to drink today.
2020 Spring Hua Ji Dan Cong
This 2020 Spring Hua Ji Dan Cong oolong tea is a Mi Lan Xiang from Huaji county in Guangdong province. Mi Lan Xiang means 'honey orchid aroma', which gives more information about its flavour profile.
As already mentioned above, this tea was featured in the EoT tea club from January 2021. It's a limited tea because not much of it was produced and it was grown without the use of agrochemicals. The tea trees that produced these leaves are over 20 years old. Worth noting is that the tea was roasted several times 'in order to perfect it'.
Tea Tasting
Water 99°C
4g for a 100ml Chaozhou teapot
I see fairly large leaves with some stems. They have a uniform brown colour and are twisted. The initial aroma has strong notes of the roast, but this fades quickly. It makes way for a sweet butteriness with strong floral notes.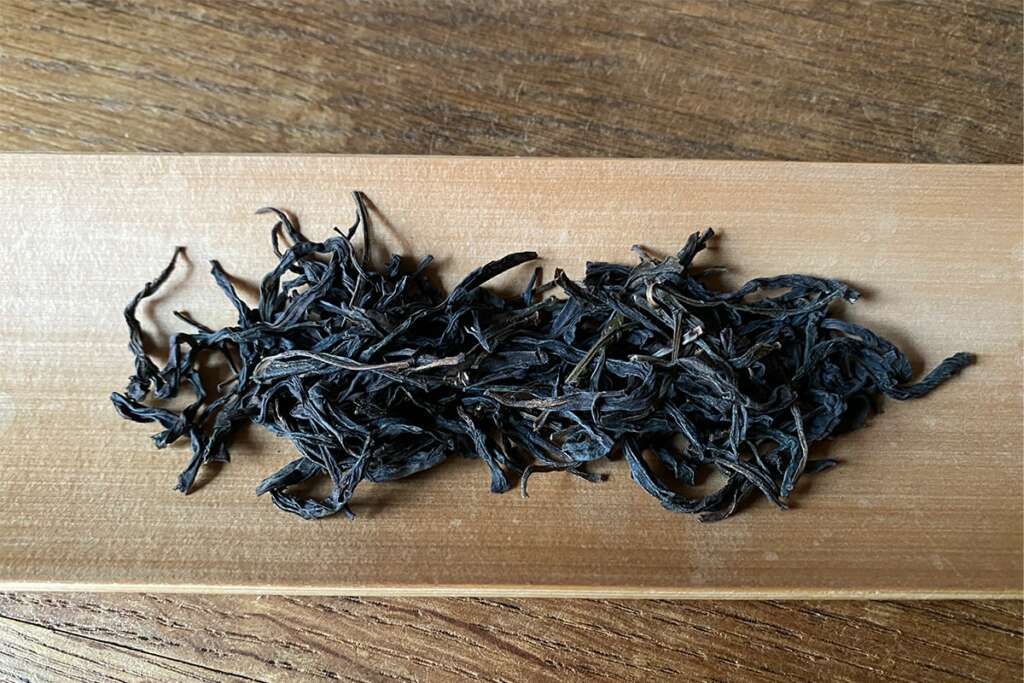 Infusion 1 (15 sec): the floral notes I got when smelling the leaves feel prominent right from the start. It's also a bit buttery and the aftertaste is quite good already as it's floral and long-lasting. It's almost as if I have eaten a bouquet of flowers.
Infusion 2 (20 sec): it's even more floral at the start of the infusion. There are strong notes of orchids that flow very gently. The flavours are intense, but it still feels gentle. The aftertaste lasts long and is really pleasant.
Infusion 3 (25 sec): the colour is a darker yellow now and I'm still getting fairly strong notes of orchids. It starts out fresh, diminishes a bit and slowly comes back into the aftertaste. The aftertaste consists of slumbering orchid notes that are at the right intensity.
Infusion 4 (30 sec): this one feels more balanced without the freshness I experienced earlier. It's not fresh in a negative way, but it has become more refreshing. The orchids are still present as well. I feel the aftertaste is a bit less prominent.
Infusion 5 (35 sec): the orchids are fading in this one. It still has that refreshing edge and it's also a bit astringent. Nothing major, only a chalky mouthfeel after swallowing.
Infusion 6 (long): I'll try doing one more but it will be a longer one to see if I got everything out of the leaves. No big changes and the leaves are definitely spent now. There is also a fresher edge noticeable and there are subtle floral notes beneath the surface of the infusion.
Conclusion
I feel I did not brew the leaves they wanted to be brewed because I'm not 100% satisfied with this session. I will drink this tea again next week and brew it in a gaiwan to see if it changes something.
It will be an interesting comparison to taste and feel the difference between these brewing vessels. During this session, I mainly got floral notes of orchids with a refreshing edge towards the end. Good session, but I believe these leaves did not give everything they have.
This 2020 Spring Hua Ji Dan Cong is not for sale, but you can become a member of the Essence of Tea tea club by clicking here to receive similar teas in the future.