I was impressed by the 2008 Yiwu Gushu sheng from Tee Kontor Kiel so I wanted to taste another one from their collection. In the box of samples they sent me a while ago, I also found a sample of a 2016 Yiwu Wang Bing Gushu. That is the tea I brewed today to see if it could match the Yiwu sheng from 2008.
2016 Yiwu Wang Bing Gushu
The 2016 Yiwu Wang Bing Gushu is a tea made by the Wang Bing family in the centre of Yiwu village. It's a relatively small family business that uses traditional production methods. I really like the fact they offer this kind of information because you know a bit more about the origins of the tea. The leaves are from wild gushu trees of around 300-500 years old.
The tea leaves were picked by hand by people who climbed the old tea trees. Then the leaves were sorted and heated in an iron wok over a wood fire. Next, the leaves were kneaded and dried in the sun. They then steamed the leaves lightly and pressed them into cakes by using a heavy stone.
Don't know where to buy tea online? I made a page on the website with 300 online shops and I keep updating it regularly. You can check it over here. 
Tea Tasting
Water 99°C
4g for a 80ml antique zisha teapot
The colour of the leaves is dark green with a brownish hue and I also spot some bright tints. It consists of fairly big leaves and some hairy buds. The aroma is light hay in combination with a deep sweetness. The sweetness is similar to dark raisins and it's really warming. I'm also getting some exotic top notes. Once the leaves are wet, it's mostly a fresh and vibrant sweetness.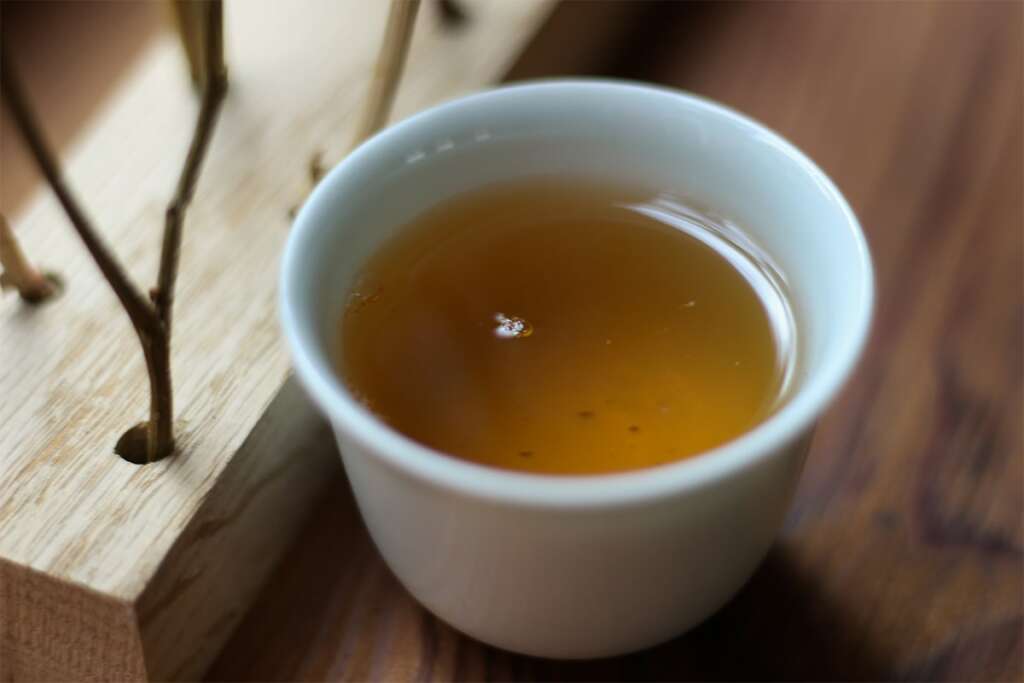 Infusion 1 (15 sec): the colour of this infusion is dark beige. It's not that subtle for a first infusion. There is a light sweetness in combination with a freshness. I'm not getting a real finish or aftertaste.
Infusion 2 (15 sec): the colour is darker now. There is a sweet undertone, but it's overpowered by bitterness/ tannic notes. It's not too intense but you feel it's there. It's a good combination in my opinion. It's complex and the energy is also starting to show itself. I'm almost sweating towards the end of the infusion.
Infusion 3 (20 sec): it's a more golden colour now. It's also slightly more tannic, but still enjoyable. These tannic notes are more dominant and the sweetness is less noticeable. The aftertaste is where the sweetness is really coming through.
Infusion 4 (20 sec): now the sweetness is powering through. It's not tannic anymore and it's your typical Yiwu sweetness. It's only in the aftertaste that some tannic notes are popping up.
Infusion 5 (20 sec): there is a subtle sweetness but it's difficult to pin down the exact flavours. It's similar to golden raisins, but not entirely the same. The aftertaste is subtle and it stays around for a long time.
Infusion 6 (30 sec): there are no more tannic notes and I'm getting a subtle version of the Yiwu sweetness. The aftertaste is slightly astringent as I'm getting a chalky mouthfeel after swallowing.
Infusion 7 (40 sec): this one is more or less the same as infusion 6. It's subtle, sweet and not tannic.
Infusion 8 (50 sec): this one is really sweet; the sweetest infusion so far. Unfortunately, there is not really an aftertaste.
Infusion 9 (long): still sweet, but I feel the leaves are spent. Still, 9 good infusions is pretty good.
Conclusion
It started out with a combination of tannic and sweet, but the tannic notes slowly disappeared throughout the session. Once these notes were gone, the sweetness was good. I got a pleasant and subtle Yiwu sweetness towards the end.
It's not on the same level as the 2008 Yiwu Gushu sheng flavour-wise, but the energy was much more impressive. I was almost sweating during and after some infusions. I feel the flavours are in there, but it needs some more years to fully settle. If the tannic notes diminish over time and you're left with the sweetness, it will definitely be a killer tea, just like the other one.
If you want to buy this tea, you can do so over here.