I have been incredibly busy this week so I really wanted to drink a forgiving tea in order to fully relax and I came up with a Wild Dian Hong. I didn't want to focus too much, but rather just enjoy a nice cup of tea while listening to some music. I still had some samples from Tee Kontor Kiel and I brewed their Wild Dian Hong Menghai today.
Wild Dian Hong Menghai
Dian Hong is a specific kind of hong cha. Literally, Dian Hong means 'Yunnan red', so it's a red tea from Yunnan province. I have some good experiences with Dian Hong, especially because they are usually more forgiving than a young sheng, for example. This is exactly what I needed.
Tee Kontor Kiel's Wild Dian Hong Menghai is a red tea from the Menghai area in Yunnan's Xishuangbanna district. These leaves are handpicked and come from overgrown old tea trees, which are described as 'huang shan'. This term means 'abandoned mountain'. The tea trees are around 50-100 years old, were grown from seeds and were abandoned during the cultural revolution.
Don't know where to buy tea online? I made a page on the website with 300 online shops and I keep updating it regularly. You can check it over here. 
Tea Tasting
Water 99°C
5g for 150ml Zini teapot
The leaves are a mixture of very big and twisted leaves, some stems and smaller leaves. It's mostly big leaves, though. They have a dark brown colour with some dark golden tints. The aroma is dark chocolate with notes of citrus fruits. There is also a slight maltiness noticeable.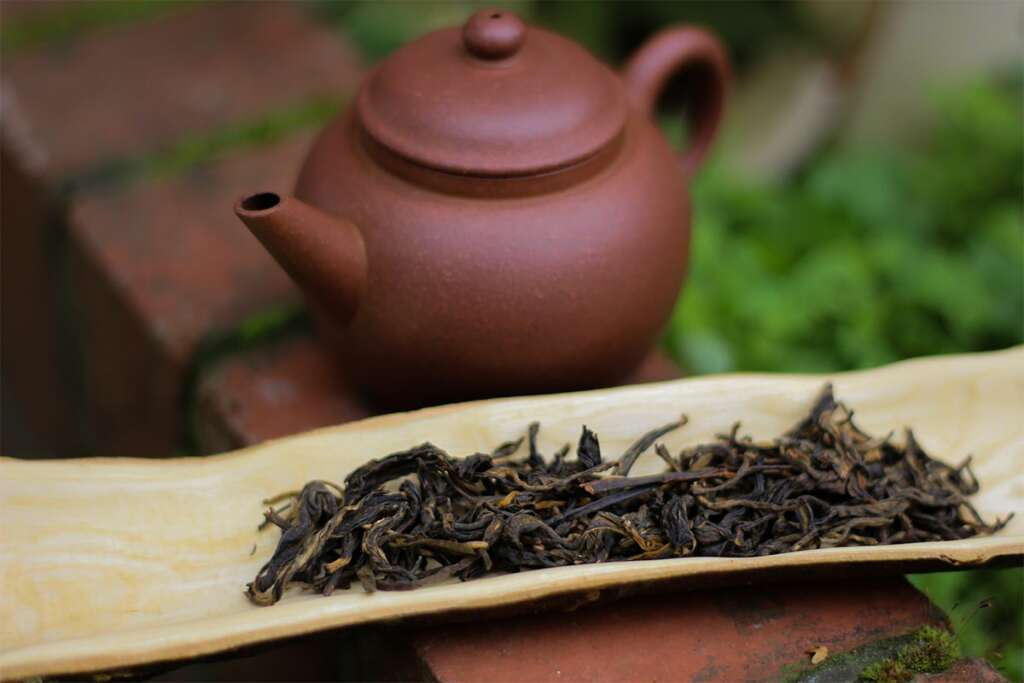 Infusion 1 (15 sec): I'm getting a slight maltiness that quickly changes into a subtle fruitiness with a hint of dark chocolate. No real aftertaste, only a subtle maltiness in the finish.
Infusion 2 (20 sec): the initial flavours have a malty and citrus undertone and the chocolate notes are hardly noticeable. If I close my eyes, it's as if I'm walking through a vibrant forest in spring. The aftertaste is malty.
Infusion 3 (25 sec): the slightly bitter edge of dark chocolate is coming through at the start. When this is over, it's sweet and fruity again, leading to a malty finish and aftertaste. Such a good tea.
Infusion 4 (30 sec): the sweet and fruity flavours are being overruled by the chocolate notes. There are more chocolate notes with a malty finish and aftertaste. I still feel the fruitiness, bit's almost non-existent.
Infusion 5 (35 sec): slightly fruity with dominant notes of dark chocolate. It's getting malty towards the finish. Some fruits are popping up in the aftertaste and the leaves are fading a bit.
Infusion 6 (long): no big changes, except that it's not fruity anymore. I'm getting dark chocolate in combination with a subtle maltiness. The leaves are definitely spent now.
Conclusion
This was a subtle, but really fun tea to drink. It was different from most other Dian Hong teas I have already drunk because this one was more subtle and under the radar. The chocolate was more subtle and it was sweeter and fruitier. It was also less about maltiness and more about the combination of different flavours. I really felt the flavours were well-balanced so this WIld Dian Hong was a real winner.
If you want to try this one yourself, you can buy it over here.