Work has been really busy this week so it had to be a quick tea session between other things. This did not mean that I wasn't paying attention, but just that I did not have the time to do a session of 15 infusions. The tea I picked was a Da Hong Pao (大红袍) from Teasenz, which was kindly given to me. I usually do 5-6 infusions when brewing yancha so this was the perfect tea for this session.
Da Hong Pao (大红袍)
This is one of the most famous yancha teas (or rock oolong) from the Wuyi Mountains in China's Fujian Province and there is a lot of mystery about it. I'm definitely not in the right place to tell you all the details, but I do know there are multiple explanations of what Da Hong Pao actually is. Some people in China use this term to refer to all rock oolong teas, while some others use it to talk about a specific yancha.
This Da Hong Pao is a particular rock oolong from right outside the scenic area in Wuyishan. The scenic area is where the really expensive tea comes from. Many shops sell their tea as zhengyan tea, which means it comes from within the protected area. A lot more yancha is advertised as being from inside the park than what is produced each year. This shows that there is a lot of misinformation and fakery.
Tea Tasting
Water 99°C
3.2 for 80ml gaiwan
The leaves have a dark brown colour. It looks nice and evenly roasted and it's mostly medium-sized leaves. The aroma is intense; almost like a candy sweetness with traces of the roast. There is also a hint of exotic fruits.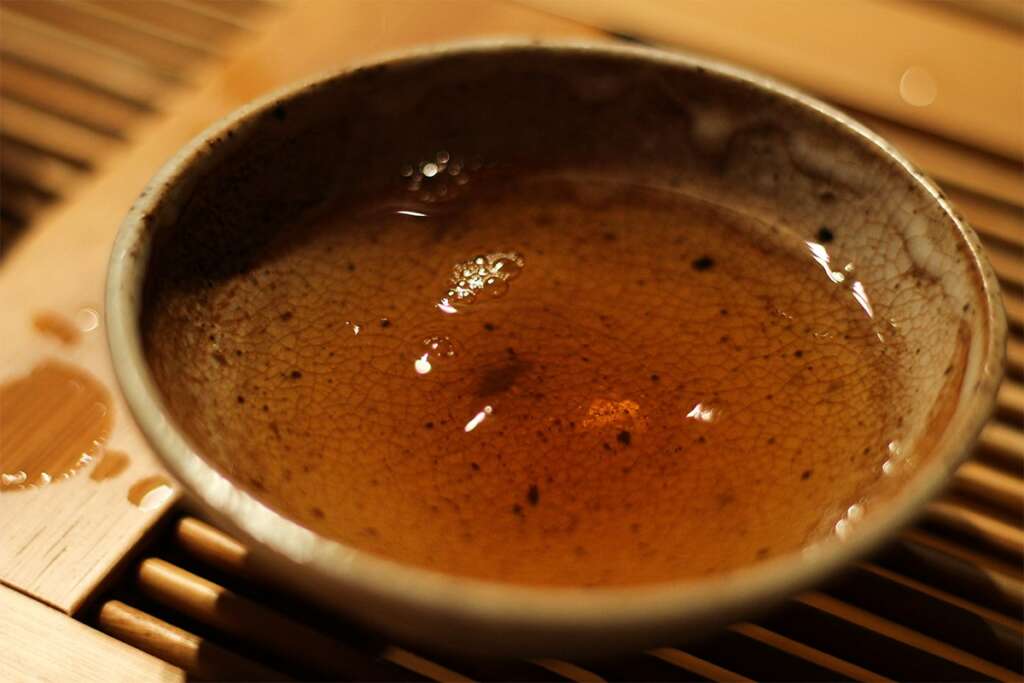 Infusion 1 (10 sec): there is a candy sweetness noticeable in the aroma of the liquor. Once I taste it, some hints of the roast are coming through. These hints are quickly overpowered by a strong candy sweetness that is a tiny bit fruity. The aftertaste is strong and sweet.
Infusion 2 (15 sec): it's a tiny bit fresh at the start, but the undertone is sweet. It goes from wine gums to a fruity sweetness in the finish and aftertaste. This aftertaste is so intense and powerful. Towards the end of this infusion, I'm starting to feel a bit of a tingling sensation in my throat.
Infusion 3 (30 sec): the sweet aroma has filled the whole room. At the start, the roast is coming through again and it slowly decreases towards the finish. Oh boy! Once the aftertaste kicks in, you won't know what hit you. It went from candy sweet to rounder and more buttery notes.
Infusion 4 (25 sec): I'm still getting a freshness at the start, which is quickly replaced by a subtle and floral sweetness. The sweetness itself is subtle and the floral notes are even harder to pick up. The aftertaste is still good and intense. The sweetness in the aftertaste is more intense than during the actual infusion.
Infusion 5 (35 sec): the freshness is almost gone, which is also the case for the sweetness. This infusion is straight-up floral with a buttery aftertaste.
Infusion 6 (45 sec): the flavours of this Da Hong Pao are fading a bit. It's similar to infusion 5, only a bit less intense.
Conclusion
This was a good session. I'm not a frequent yancha drinker so I cannot really compare to a lot of other Da Hong Pao teas. However, I know that I had a pleasant session with this tea.
It was mainly a candy sweetness that was really prominent in the aftertaste of most infusions. Towards the end, it changed and became more floral and buttery. I also experienced a freshness, but this was only at the start of some infusions.
Ten minutes after the session, I still got a buttery sweet taste in my mouth and a tingling sensation in my throat.
If you want to try this one, you can buy the sample pack here.