After trying some older sheng puerh teas, the time was right for a fresh one from last year. The 2020 Yiwu Yao Zhu Di from Essence of Tea is on the menu today. I tend to stay away from sheng puerh this young, but this one is nice and gentle and it doesn't make my stomach do weird things.
2020 Yiwu Yao Zhu Di
This tea is from 2020, as you can already tell from its name. It was featured in the tea club of December 2020 and I have been enjoying it quite a lot. Unfortunately, I have not compared it to the other tea from December's tea club (Yiwu San Jia Zhai), but I want to do a side by side tasting very soon.
The 2020 Yiwu Yao Zhu Di is from a garden somewhere in Guafengzhai. This is a really famous area and prices can be very high for tea from this area. The two teas in the tea club package from December 2020 are from rather unknown gardens (Yao Zhu Di and San Jia Zhai).
Tea Tasting
Water 99°C
6.1g for a LQER Wuhuini teapot
These are some massive leaves! I mostly see leaves with some stems and buds. The colour is dark beige and brown and the buds are beige and hairy. The aroma is fruity with hints of apples. It's sweet and I'm also getting dry wood. It feels fresh and vibrant already.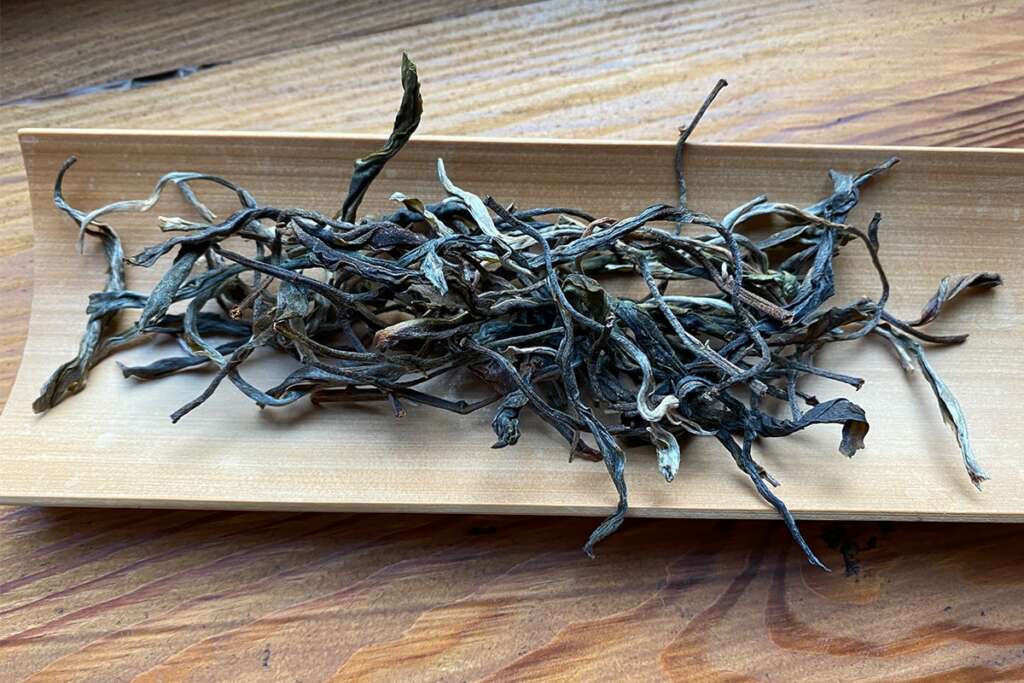 Infusion 1 (15 sec): some bubbles are floating in my cup and it has a very light yellow colour. The woodsy notes I got when smelling the dry leaves are definitely noticeable. Right from the start, it's woodsy with a slight fruitiness. It's a subtle infusion, but it immediately takes me on a morning walk on a bright day in late spring. Really bright infusion!
Infusion 2 (20 sec): the colour is more yellow and looks as juicy as before. It's fruitier than the previous infusion. I'm getting hints of apples and it feels refreshing. The fruitiness slowly evolves into a solid finish and aftertaste. After a couple of minutes, the aftertaste becomes really sweet.
Infusion 3 (25 sec): this one has a bright yellow liquor with some bubbles floating on top. I feel the sweetness is taking over but doesn't completely mute the fruitiness. It's a tiny bit astringent towards the end but once this fades, the sweetness of the aftertaste is in full swing.
Infusion 4 (30 sec): this one feels similar. One major difference is that it's less astringent. At the start, a sweet fruitiness takes you on a morning walk and ends with some bright notes. The perfect tea to drink in the morning to start your day.
Infusion 5 (35 sec): less sweet but the fruitiness grips you right from the start. I'm experiencing a chalky mouthfeel, but it adds a nice touch. There is also a pleasant fruitiness going on. It's really good and continuous into the aftertaste.
Infusion 6 (40 sec): it feels similar, but it's less intense than the previous infusion. There is a subtle fruitiness with a slightly astringent finish.
Conclusion
I drank the 2020 Yiwu Yao Zhu Di in the morning and that was a good decision. It was bright and felt as if it contained some sun rays. It was like taking a morning hike on a sunny day in late spring. You can feel the warmth but still feel the coolness as well.
It was both sweet and fruity and had some notes of wood at the start. The fruitiness gradually moved to the front and was similar to fresh apples. This was a really enjoyable tea, especially given the fact that it was super fresh (from 2020). The aftertaste was really enjoyable as well; sweet and fruity.
You cannot buy this one, but if you want to be part of the EoT tea club and receive similar teas in the future, click here.