I'm really busy so I don't have that much time for an extensive tea session to write articles about. I'm drinking tea on a daily basis, but I just don't have the time to write about the teas I'm drinking. However, I got some free time this weekend and decided to drink another sample from Xin An Chu: a 2008 Bang Wei Sheng.
2008 Bang Wei Sheng
This 2008 Bang Wei Sheng got my attention because the description looked really promising. It was grown at an altitude of around 1,900m and the trees are a transitional species between wild and cultivated trees. Since their discovery, these trees have had a profound effect on the beliefs about the origin of tea.

Don't know where to buy tea online? I made a list of over 300 online tea shops and I keep updating it regularly. You can check it over here
This tea was made in 2008 and had been kept in dry storage. I'm interested to taste and feel what effect dry storage has had on this tea because I usually go for more traditional storage and/or Hong Kong storage.
Tea Tasting
5.3g for a 120ml Dicaoqing teapot
Water 99°C
The leaves have a uniform brown colour. They look nice and medium-sized. I also spot a few stalks and buds. The aroma of the dry leaves has dry wood to it and I'm also getting a hint of spices. When I keep sniffing, it gets fruity and sweet as well. Once the lkeaves get wet, the aroma is godly! Sweet berries are coming through. There is also a hint of incense, but without any smokiness, if that makes sense…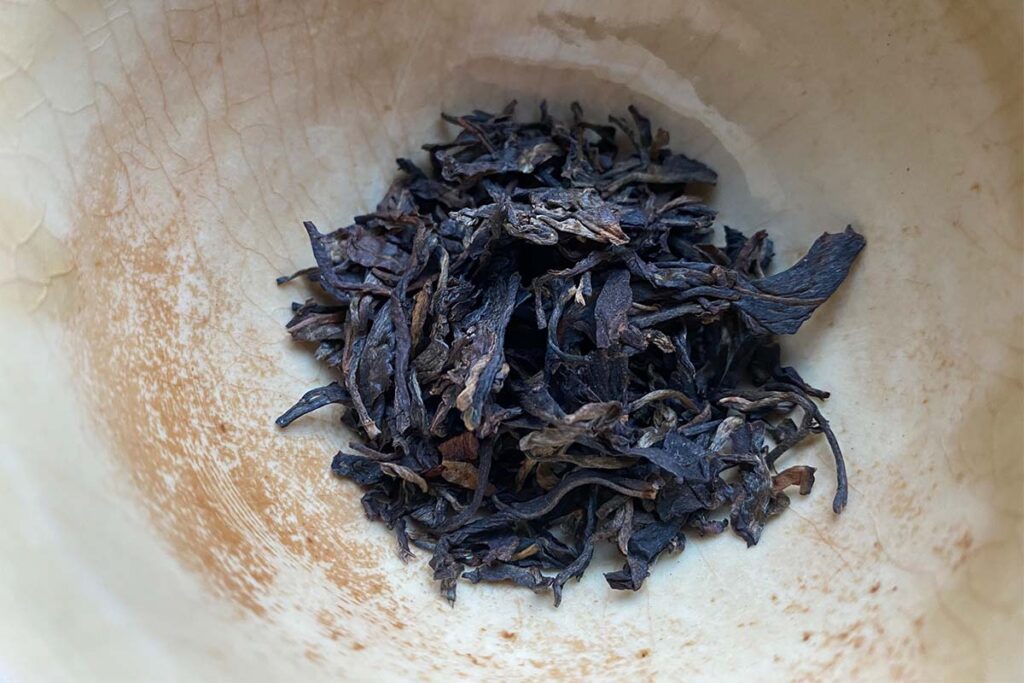 Infusion 1 (15 sec): some leaves blocked the spout of my teapot so it did not flow well, which made the infusion a bit longer than I wanted. The colour is a dark copper. It starts out on a slightly bitter note, but it disappears really fast. After the initial bitterness, some hints of smoke appear and disappear. The finish feels a bit sweet, but not as sweet as the smell of the leaves. The aftertaste has a bit of everything: bitter, smoke and a tiny bit sweet. The sweetness is really coming through several minutes after swallowing.
Infusion 2 (15 sec): no initial bitterness in this one. I'm getting notes of leather at the start that transform into sweet berries towards the finish. Really complex and full of energy. This one is mostly focused on my forehead. It's truly fascinating how the energy of some teas affects different parts of your body.
Infusion 3 (20 sec): the colour of this one is lighter and the brew itself feels more gentle as well. There is a slight smokiness at the start and this lingers throughout the infusion. Nothing too intense, but I feel it's there. The finish and aftertaste are fruity and sweet.
Infusion 4 (25 sec): this one is really enjoyable. There is a bitterness present and smokiness is noticeable throughout the infusion, but a fruitiness dominates this one. Especially the aftertaste; it stays around for a very long time.
Infusion 5 (30 sec): similar to infusion 4 but without the smokey and bitter notes. It starts out with a subtle fruitiness and peacefully floats towards the end of the infusion. The aftertaste feels fruity.
Infusion 6 (40 sec): the rougher edges are disappearing and it's getting more subtle in general. The aftertaste has some traces of smoke in combination with a very faint fruitiness.
Conclusion
This 2008 Bang Wei was a really nice tea. The combination of bitter and smoky was not too intense and overpowering and worked quite well with the fruitiness. The initial impression of most infusions was fresher, while it became fruity and sweet towards the end.
The aftertaste stayed around for a very long time and felt really nice. Fruity, sweet and it reminded me of warmer days last summer. I definitely recommend this tea!
If you want to try this 2008 Bang Wei, click here.