I have finished my coding bootcamp and I finally have time for tea again. While I was coding away (or at least trying to), I received several samples from Banna House. I already tried a sheng puerh, which was an amazing experience (full tasting notes coming soon). For today's session, I wanted to try the Jingmai Hongcha they sent me because I mostly drink puerh from this region and hongcha is a nice change of pace.
2022 Jingmai Hongcha
This tea comes from Jingmai Mountain and was harvested in spring 2022. It's made using the same cultivar as puerh tea and it's from dashu tea trees. This means that the age of the trees is between 70 and 99 years old.

Don't know where to buy tea online? I made a list of over 300 online tea shops and I keep updating it regularly. You can check it over here
Tea Tasting
The twisted leaves are massive and they have a brown color. Some leaves have a greenish hue to them, but it depends on the lighting because I only see it when taking a picture. Generally, the leaves are uniform in color and size. The smell when opening the bag is an overwhelming aroma of malt and dark chocolate. It's almost as if I'm sticking my nose in a bag full of dark chocolate.
I'm also getting some faint hints of fruits when smelling the leaves after the rinse. It has been raining for days here in Belgium and this tea feels like the perfect autumn tea.
Water 99°C
5g for a 100ml shiboridashi
Infusion 1 (15 sec): the color is dark amber and the liquor looks medium to thick. Right at the start, I'm greeted by a certain familiarity that is present in a good dian hong. It's a warming maltiness at the surface and a complex interplay of chocolate and fruits deep below the surface. A small sip immediately coats my whole mouth and lingers in the aftertaste. The maltiness transforms into a deep sweetness in the aftertaste.
The feeling after drinking this infusion is perfect. I feel relaxed all of a sudden and it seems as if the tea is the only thing that matters. Exceptional first infusion!
Infusion 2 (20 sec): the color is a bit darker, but still amber. I feel it's sweeter at the start of the infusion. The undertone is malty, but there is so much more going on than just that. It's such a pure and smooth tea that it just flows on its own.
Infusion 3 (25 sec): the maltiness is more prominent again but this works well in combination with the sweetness. The aftertaste is malty with a touch of dark chocolate. This one has a really long-lasting aftertaste!
Infusion 4 (30 sec): the flavors haven't changed that much so it's primarily malty with a certain sweetness that lingers in the finish and aftertaste. The maltiness is quite intense when taking a sip, but it quickly changes and becomes sweeter almost immediately.
Infusion 5 (30 sec): this one feels similar to the previous infusion. No significant changes here.
Conclusion
If you like dian hong, this is definitely a tea you have to try. It's complex and has a variety of things to offer.
It's mostly a combination of malt, chocolate and a sweetness that stays with you for a long time in the aftertaste.
Jingmai Dashu Hongcha 2022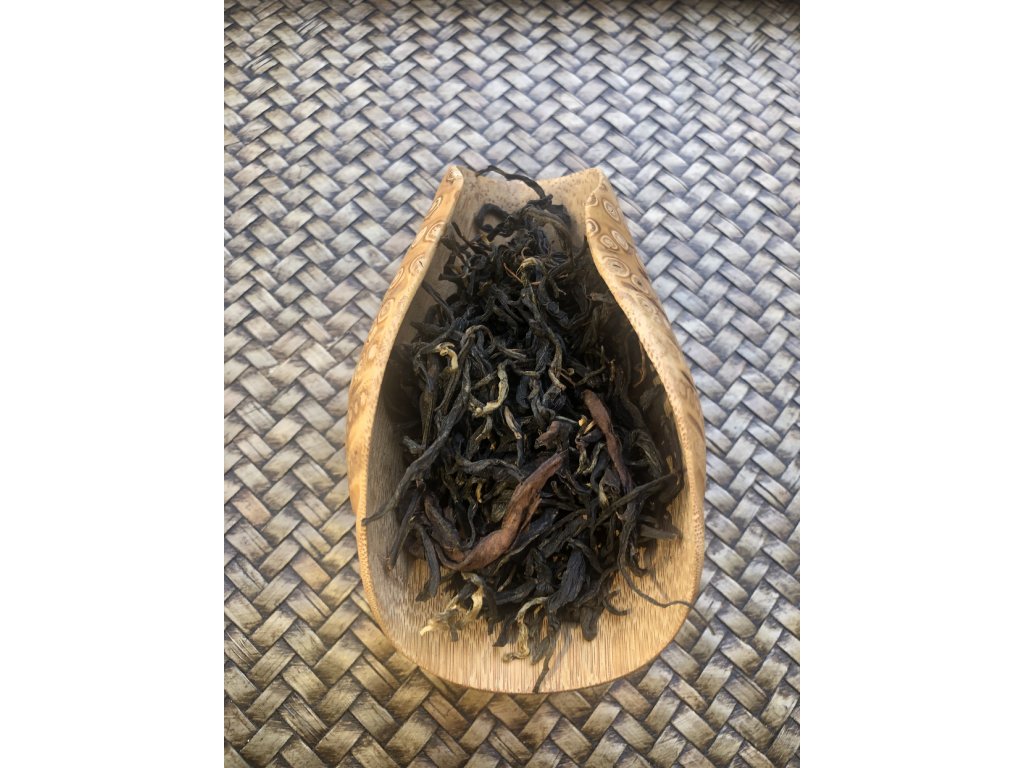 A 2022 hongcha from Jingmai Mountain.